New : our chorizo with olives !
Let us introduce you our latest novelty : our chorizo with olives !
It is a real tasting product, superior recipe, made with 8 % green olives.
Completely innovative (Berni is the only producer) this 200g curved chorizo is thought for self-service but can integrate charcuterie plates as well.
Quick contact our sales team who will be happy to give you more information !
You liked them flavorless, they come in new flavors : with aromatic herbs, white truffle, pepper or parmesan, you will love to taste and share them.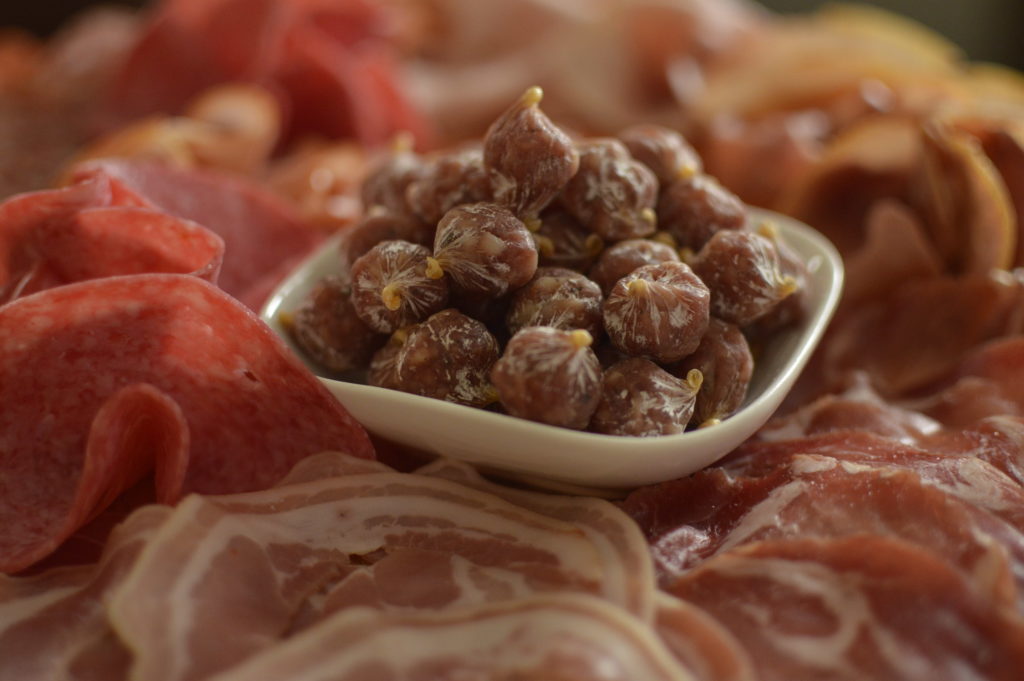 BERNI exhibited at the SIAL, International Food Fair, held at the Parc des Expositions de Villepinte from 16 to 20 October 2016.
This world-famous must-see event attracted more than 7,000 exhibitors, 85% of them coming from abroad (more than 150,000 visitors). This show was the occasion for BERNI to present its brand new logo, products and packagings.
The company intends to create new business opportunities through the many contacts it has made during this event.
Beyond the graphic change, this modernised visual identity aims to increase the visibility of the Berni' company products and to translate its commitment to quality since 1954.
The brand is valued in a round lettering.
The central crown places the consumer and the retailer at the heart of the Berni offer.
The trade highlights the name and the anchor in the history : that of a company attached to its values ​​and its traditional recipes since 1954.
Berni, it's all about trust.
Berni is at the SIAL, the world food innovation fair from 16 to 20 October 2016.
Rendez-vous Hall 6 – C120 to discover our great classics (Les Tréfines range, 1954 …) and our latest innovations.
Come and meet the Berni team at the 15th edition of the private label show which will be held at Porte de Versailles in Paris from 30th to 31st March 2016.
For more than 60 years, Berni offers its know-how at the service of its customers. The company has thusgained their confidence and satisfaction when reconciling price and quality requirements.
Strong> Berni will be present at the 15th edition of the international private brands fair, presenting its innovations strong> but also its leading products under private label strong >:
– the curved chorizo, our great specialty
– sliced ​​products
– our specialties 100% ham: chorizo ​​and saucisson in whole piece and sliced too
Waiting to welcome you during this event. Strong>
Discover and taste our products in hall 4 – stand G75! Strong>

Enregistrer
On May 31st 2014, Berni celebrated its 60th anniversary.
Philippe Trévisan manages Berni for more than 10 years. Today, the company employs 110 persons and ensures its growth with strong ambitions of international development. Among them : seducing Europe and Asia. However, the company keeps its fundamental values and its family spirit. That's why the company cared about celebrating properly its 60th anniversary with its team and customers.
A formal and friendly anniversary
The event got together all the employees and their spouses. A lot of local leading figures took part in the celebration. They took advantage of this anniversary to give the Medal of Merit to some employees deeply involved in the success of the company. It was a formal and friendly anniversary : a gourmet dinner was served, there were dancers, magicians, jugglers and even a splendid firework. 60 years of experience and quality requirement : it was well worth it !
Thierry Rossi took up the challenge of the "Diagonale des Fous", the ultramarathon race of Réunion Island in october 2014. Challenge won !
It was the 22nd edition of this crazy athletic race. According to the specialists, this edition was the most difficult since the race was created : 173 km run with 9,996 m D+ and appalling wheather conditions. Thierry Rossi finished it in 60 hours 38 minutes 55 seconds. A sporting feat for this hobbyist marathoner. In the starting block : 2,300 runners, only 1,147 of them crossed the finish line. After 2,500 km of training, Thierry Rossi arrived at the 1,037th place : "I am a competitor at heart, I never give up ! I love challenges. If I have a problem, I will face it."
Going beyond one's limits
This commitment and this will, Thierry Rossi also applies them in his work at Berni where he holds a key position.
He's the one who plans, organizes, runs and monitors the production. He must take into account every factors that would affect the smooth functioning of the production such as costs, deadlines, quality and the strict compliance of hygiene and safety rules. According to him, running a marathon or managing his teams ask for the same requirements : "If I'm demanding with my teams, I have to be self-demanding. And I like it."
When a colleague of Berni shows what means going beyond one's limit with as much conviction, this if the whole company which benefits from his behavior. The kow-how, the quality and the innovative spirit which animate Berni emerge greater.
Congratulations to Thierry Rossi.
Enregistrer
Enregistrer